Donated:
$273855
Backers:
2576
Getting Started in Furcadia
Go to http://www.furcadia.com/download/. You will find the download options -- Select the one that matches your operating system, and download the installer. The installer will guide you through the installation process.
Once the game has been installed, it's time to create a character. Clicking on the Furcadia icon will bring you to your character creation page. Follow the character creation instructions and keep an eye on your email box, as you should receive a confirmation email.
Movement: This can be controlled by mouse, number pad, or the arrow keys. Furcadia is built in an isometric view, so movement will be diagonal. To rotate, you want to use your Insert or Delete keys.
Chat: At the lower right of the game window, you will see a chat bar. This is where you talk to those who are on your screen. If you would like to say something privately to someone (whisper), just rightclick their character and choose the "Whisper" option.
Tab Buttons: To the left of the game window, you'll see a series of tabs lettered A-F.
A Tab: This is your movement tab.

C Tab: This is your edit tab.

Portraits: Portrait spaces are purchased in the Digomarket -- these allow you to upload a 95x95 pixel piece of art.
You can read about portraits here, and get started uploading them here.
Digos: Digos are avatars that can be purchased at the Digomarket. These Digos can be toggled on and off, and allow you to personalize the look of your character.
We call our Kickstarter Backers AngelCats. If you selected the AngelCat in your reward package, you will have it to use on your character! You can turn this special Digo on and off by typing `angelcat in the chat screen.
Furcadia has two types of maps: Main Dreams and Player Dreams. Players can make their own maps using patches and an object-based scripting language we call Dragonspeak.
Main Dreams: This is your tab to access the main dreams of the game.

Main dreams each have a theme and 'feel' in their art and population!
Player Dreams: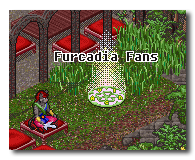 Players can showcase their dreams, based on their own themes and rules, and invite friends and others into them!
Furcadia is a unique and magical place created by the community. Whether you like to Roleplay, Socialize, Explore or Dreamweave, we hope that you find yourself at home in our wonder-filled, imaginative world!